Attend a careers fair
Come and meet some of our best students and showcase your organisation and opportunities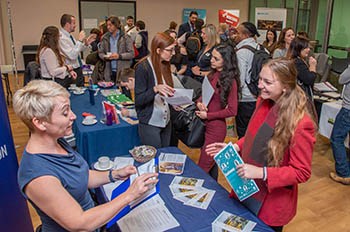 Our Careers Fairs are a fantastic opportunity to advertise your graduate and placement vacancies, as well as network with large numbers of Worcester students in one location. 
Our students are highly employable, with 97% of our graduates in work or further study and 76% working at graduate level. You'll be able to meet students with a wide variety of skills and from a range of different courses including Business, IT, Law, Education, Humanities and Science, many whom have gained additional work experience via work placements and internships, as well as volunteering and community projects in the local area. The majority of students attending the Fair will be final year students, seeking graduate roles, or second year students who are looking for placement opportunities. 
Stands are free, and available for businesses with roles for graduates or placements/internship opportunities. 
The students were engaged, well prepared for the event and of good calibre. Good to see them focused on employability.

2018 attendee
The 2019 Careers Fair will be held on Wednesday 23rd October. 
To request a stand, please visit myCareer. If you don't already have a myCareer account, you will need to register and have your account approved by a member of Careers & Employability staff before you will be able to book your organisation's place. 
There are also sponsorship opportunities to support the fair. Please contact us if you are interested in doing so.
Email: careers@worc.ac.uk
Telephone: 01905 855166
To advertise your vacancy, please visit: