Plan your route
When setting out on a journey are you the sort of person who likes to plan ahead meticulously, working out your route and the timings? Or are you more likely to head off in the general direction, and work out decisions about routes along the way? Or do you find even when you have planned carefully, the unexpected happens and you have to take a diversion or different route?
The same applies to career planning. You may prefer to think carefully about the sort of work that would suit you, research what options are available, and make your job applications which lead to the desired job. And for some people this works out well. 
Or you might find that your career develops in unanticipated and seemingly random ways, revolving around chance encounters, unexpected opportunities, or lack of them. This is often called Planned Happenstance or Chaos Theory.
For most of us, our career development will involve a combination of planning and also in dealing with what comes along. We may be able to plan to a degree, but the unexpected will almost certainly happen. So how we take advantage of our opportunities and life's ups and downs will be as important as trying to keep to a fixed route.
---
Career planning
Career planning involves four elements: thinking about yourself, researching your options, making plans, and taking action.
Thinking about me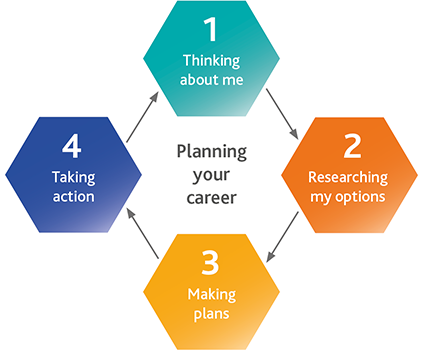 Ask yourself 'Where am I now?' and 'Where do I want to get to?', Think about what you enjoy, your interests and skills, and what challenges you. Define your goals.
Researching my options
What can you do with your degree and experiences? Are your plans realistic? Look at what training and qualifications you'll need and where vacancies are advertised.
Making plans 
How will you reach your goal? What should be your first steps? You might need to gain experience at a lower level or voluntary capacity first to 'build' your career. Be realistic in your expectations.
Taking action
What do you have to do in order to get there? You might need to gain some work experience, forge new networks, make applications, and attend interviews.
This model can apply at various stages of your career and can be revisited again and again. For example if you are a final year student you may think about your skills and strengths in relation to your course and part time work, you may research career options by looking at Prospects, make your best plans and apply for graduate schemes. Then 5 years on, with some substantial work experience under your belt you will understand a lot more about what you enjoy doing and have discovered a whole load of opportunities and jobs you hadn't even heard of before – or you may have found the jobs in your chosen field are very limited. You may well have adjusted your plans and applied for other jobs, and could well be in your second or third role since you graduated. So, armed with this new knowledge you start through another stage of the career planning process.
---
Planned happenstance: change, chance and chaos
The idea of 'Planned Happenstance' was developed by learning & career theorist John D. Krumboltz and focuses upon the idea that external factors, chance events and the unexpected dominate our lives and careers. We are not always able to predict events such as a new job opening arising at work, a redundancy, or the need to move because of personal circumstances. We are often unprepared for the unexpected because we expect to be able to plan and control everything.
Krumboltz suggests that if we maintain qualities of curiosity, persistence, flexibility and optimism, we will be ready to make the most of any opportunities that arise, as well as deal with any problems.
Chaos theory takes this is a little further. Building on the work of Edward Lorenzo who noted very small changes can lead to very big differences in the future, Pryor and Bright. developed the chaos theory of careers. They suggest chance encounters can affect our careers and lives, the choices we make do not always have the effects we planned . For example, a conversation with a stranger on a train might lead to a new contact in a different sector, or a change of line manager may encourage you to apply for a job before you were ready to do so. Often we move forward not by careful planning, but by seizing hold of opportunities that suddenly or unexpectedly arise. They suggest the sort of person who can best deal with this uncertainty has these qualities:
Flexibility - Prepared for and ready to respond to change, does not find it hard to alter thinking or behaviour, not threatened by the unfamiliar, adaptable.
Optimism - Sees opportunities rather than problems, takes the best out all situations, hopeful, open to new experiences.
Risk - Confident to make decisions on the face of change, recognises but is not deterred by chance of failure, not dominated by fear
Curiosity - Explores and seeks new knowledge and experiences, learns from study and others.
Persistence - Able to endure boredom and failure, obstacles not seen as discouragement, confident and tenacious in seeking their goals.
Strategy - Seeks out opportunities to improve chance of reaching goals, plans ways to win no matter what the situation.
Efficacy - Believes that luck, circumstances, problems and others need not determine their destiny, seeks to take control of their lives, focuses on opportunities and what they can control.
Luckiness - Believes or expects to be lucky.
Send us a query on myCareer
Telephone: 01905 855166
For careers advice and guidance, book an appointment to see one of our careers advisers through myCareer

Follow & like us on Twitter & Facebook for job opportunities, CV tips & career advice!