Postgraduate Study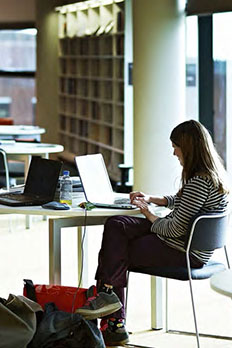 Thinking of further study?
More students are considering additional study after their degree, because they want to explore their subject further, improve their job prospects in a particular area, or move into a different field. Further study may be essential for particular careers such as teaching or social work.
Research carefully and think about the financial implications, and whether postgraduate study will enhance your chances of finding work. You may have the option of studying full or part time and so could develop relevant work experience and skills at the same time.
We can offer guidance on searching for postgraduate courses, applying for postgraduate courses and funding your postgraduate study.
Postgraduate study includes:
A taught course leading to a masters degree, e.g. MA (Masters of Arts) and MSc (Masters of Science).
A research course leading to an masters degree e.g. MA by Research, MRes (Masters by Research) and MPhil (Master of Philosophy).
A research course leading to a doctorate, e.g. PhD (Doctorate of Philosophy).
A work focused or professional course giving skills or knowledge in a particular area.
Searching for Courses
Find out how to identify the right course for you
Applying for Courses
Top tips on writing the best application, including our postgraduate personal statement checklist
Funding Postgraduate Study
Discover some of the ways you can fund your postgraduate study