The Worcester Award
What is the Worcester Award? 
The Worcester Award is an employability award run by the Careers & Employability team. It allows you to record extra activities you engage in during your time at the University of Worcester, and encourages you to reflect upon how these activities can help to improve your future employability. Gaining the Worcester Award will make you stand out from the crowd.
The Worcester Award has four levels: Bronze; Silver; Gold and Platinum. You can decide which level of the award you want to aim for. More information about the requirements for each level is below.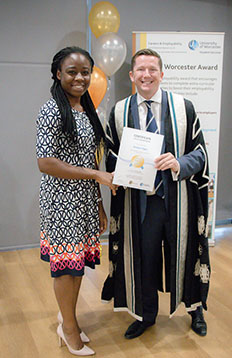 This year, over 200 students completed the Worcester Award, including our first ever Platinum Award winners.
Registration for the Worcester Award 2019-20 is now open on myCareer. Click the Pathways icon on your myCareer homepage. The rest of the pathway will be available for you to complete your activities from the 1st October 2019. To complete the award, you would need to record and reflect upon your activities. You can see the requirements for each level of the Worcester Award by clicking on the graphic below or by visiting the page What do I need to do to achieve the Worcester Award?
If you have any queries, email worcesteraward@worc.ac.uk or call 01905 855354.
If you have any difficulties accessing regular paid work due to issues such as disability or visa requirements, please contact us directly to discuss your situation.
Who can achieve the Worcester Award?
Any University of Worcester student can achieve the Worcester Award. You can be:
From any of the nine academic schools
Studying full- or part-time
On your placement/sandwich year
Based at a partner college
On an undergraduate or postgraduate course
Why do the Worcester Award?
The Worcester Award (any level) will be recorded on your degree transcript when you graduate. You will receive an official certificate from the University of Worcester for your achievement too!
Employers like to see that students get involved with extra-curricular activities whilst at university. It's a brilliant addition to your CV, as well as being a great talking point at interviews and on application forms.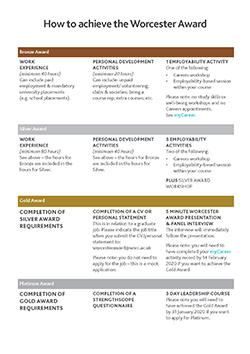 What do the different levels involve? 
Click on the image to the left to find out what you need to do for each level.
Recording your activities
To complete any level of the Worcester Award you will need to record your activities as part of the Worcester Award pathway on myCareer. Registration is open now on myCareer, with the rest of the pathway opening on 1st October 2019.
Worcester Platinum Award
The Worcester Platinum Award was successfully  piloted in April 2019. Assuming that the Platinum Award continues in 2019-20, you would need to have achieved the Gold Award by January 2020 to then enable yourself to attend a three day leadership course. Entrance onto the Platinum Award is by application. Further details and the application form would be posted here at the start of the 2019-20 academic year.  If you have any questions about the Platinum Award, please email worcesteraward@worc.ac.uk