Projects & work experience
Work experience
Work experience is invaluable in helping you understand certain job sectors, develop your skills, and build important networks.
Work experience relevant to your chosen career area is ideal but don't forget that most employers are looking for evidence of transferable skills, and so any work experience or project can provide excellent evidence of communication skills, team work, numeracy or problem solving, for example.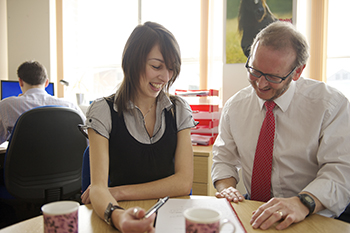 Finding work experience:
The University's Win-Win programme offers voluntary opportunities to work on a project or complete a short term placement with local employers. Find current live projects on myCareer by filtering opportunities to the 'voluntary work experience' type.
Part-time jobs can be found on myCareer and in our weekly bulletin.
Volunteer through the Student's Union. Any volunteering you do will also count towards the personal development activities section of your Worcester Award.
Speak to your course leaders/lecturers - they might be able to inform you of any opportunities particularly relevant to your studies.
Unpaid internships
An internship is one way to get work experience that will strengthen your graduate job applications. However, some internships are unpaid, particularly in sectors such as the media or politics.
So how do you decide whether an unpaid internship is a valuable opportunity or should you be looking for a job which will give you some much-needed cash?
The following may help you decide whether an unpaid internship is valuable:
Discuss the purpose of the internship and clarify expectations on both sides from the start.
Be clear about how long you want the placement to last for.
Ensure the placement is valuable – does it give you an insight into a particular industry? Will it improve your skills or clarify your career aspirations? Will you get a reference out of it?
Will there be any training or development with this opportunity? Will you have a supervisor/mentor to help you with this?
Discuss the possibilities of any future paid work with the employer, pointing out the skills that you have gained during the internship.
Re-consider the value of the internship if it ceases to supply useful contacts and training opportunities.
National minimum wage legislation states that it is unlawful to take someone on as a worker and not pay an appropriate wage. If you are being expected to work certain hours, have specific job role which is useful to the organisation, then your company may be in contravention of this legislation.
Everyone has a choice and if you feel that you are being exploited then it is up to you to decide whether to continue or not.
Further advice and information
Send us a query on myCareer
Telephone: 01905 855166
For careers advice and guidance, book an appointment to see one of our careers advisers through myCareer

Follow & like us on Twitter & Facebook for job opportunities, CV tips & career advice!