Autism Summer School
Getting Ahead: Specialist pre-entry support for students with disabilities
Our Residential Summer School for students with autism and Asperger's Syndrome have gone from strength to strength, with more students, staff and volunteers than ever joining us at this yearly successful event.
The Summer School is aimed at helping students with autism spectrum disorders prepare for starting university in September.
2021 Summer School
Keep an eye out here and on our Twitter page for details of our 2021 Summer Schools.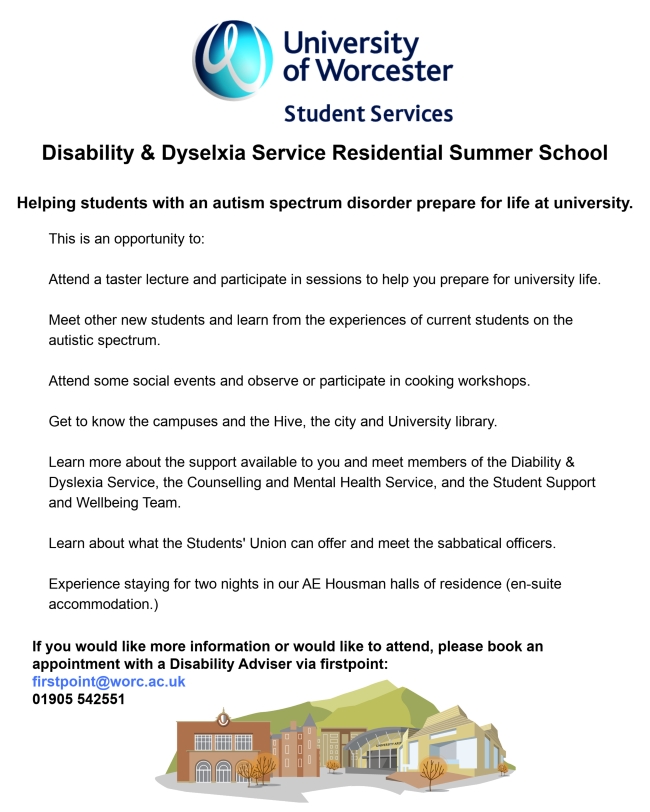 We meet with students in a confidential space in firstpoint.  To book a Disability Advisor appointment please contact or visit firstpoint, which is open Monday to Friday 9:00am - 4:00pm, and is situated in the Peirson Study and Guidance Centre on St Johns Campus.  
Telephone: 01905 542551    Email: firstpoint@worc.ac.uk
To contact the team directly please email disability@worc.ac.uk or telepone 01905 855531
We are also on Twitter 

 https://twitter.com/UoWDDS
A detailed access guide to the Peirson Centre can be found on AccessAble.co.uk