First Aid
SUMMONING FIRST AID ASSISTANCE
In case of emergency, don't delay.  The quickest way to get assistance is by dialling 5495 (Main Control Room), this will put you in contact with reception who can contact a qualified member of staff.
LOCATION OF DEFIBRILLATORS
It is important to familiarise yourself with the location of all defibrillators on site, please take a little time to familiarise yourself with the site plans:
PROVIDING FIRST AID TREATMENT

First Aid Kits
It is the responsibility of Schools and departments to ensure first aid kits are maintained and available.  They will need to arrange for kits to be replenished by purchasing 
through their own cost centre.  
The links below provide guidance on items / quantities that should be considered however you are free to include other items where there is a risk for example, burn cream in labs or where there is a risk of burns etc.
Suggested Contents of First Aid Kit Content British Standard (BS) 8599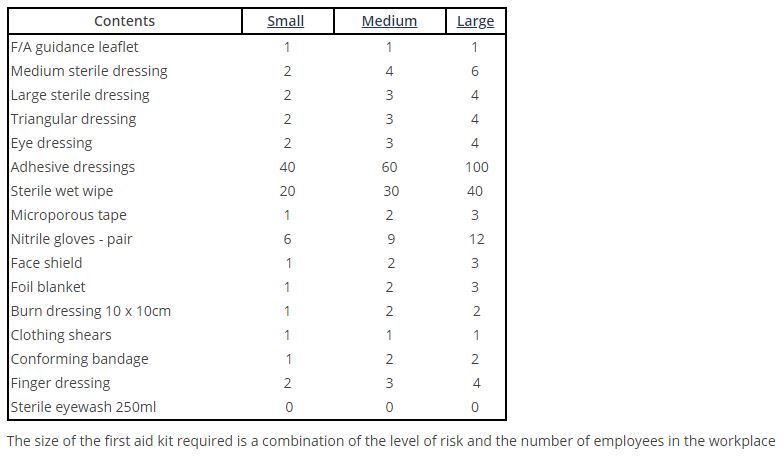 The suppliers who are already set up are Lewis's Medical Supplies, Trinity Workwear and Wray Brothers Ltd. Contacts for each supplier are already on Marketplace under the supplier directory.
FIRST AID Q & A
First aid treatment should only be provided by staff who are qualified First Aiders holding a current first aid certificate and this is managed by HR.  The following provides further guidance for all first aiders.
What responsibilities do First Aiders have?
Monthly check of first aid equipment
Keeping records of all first aid treatment given
Ensuring that their First Aid Certificates do not expire
What items should a newly qualified First Aider hold?
First aid Certificate - training arranged by HR

First Aid Kit
Can a First Aider be held personally liable if treatment fails?
Not if the actions were taken in good faith, at work and to the best of the First Aider's ability. Where genuine efforts are to no avail, the First Aider is not held liable for any adverse outcome.
Are First Aiders at risk from infections such as HIV when dealing with bleeding or when trying to resuscitate someone?
No - provided that all sensible precautions are taken. The Human Immuno-deficiency Virus (HIV) is passed on through the exchange of bodily fluids
Disposable gloves should be available for use by First Aiders and blood spillages should be cleaned up promptly with a disinfectant such as diluted Dettol solution. Polythene shields (resusciades) are available and are placed over the face of the patient to allow for resuscitation without physical contact. There are no known cases of a First Aider ever having been infected with HIV through attempted resuscitation. There are other viruses that are more contagious than HIV, such as Hepatitis B, so it is sensible to exercise caution when administering first aid.
How do we call for an ambulance?
If an ambulance is required ask for someone to call 999, then ask them to notify reception/security to arrange for the ambulance to be met and directed to where the casualty is.
Should First Aiders accompany ill or injured persons to hospital or home?
This depends on the circumstances. If the patient is transferred by ambulance to hospital then the First Aider does not accompany the patient. However, if the patient is transferred to hospital or taken home by taxi then the First Aider should arrange for someone to accompany them.  Reception should be contacted to arrange for a Taxi.
Should the persons emergency contact be advised that first aid treatment has been provided?
Yes - except in the case of minor injury and with the casualty's permission, through the Personnel Department for staff or Registry for students.
Who organises first aid training?
Training is organised and managed by HR
Should first aid treatment be recorded?
Yes - Treatments must be undertaken strictly in accordance with the training provided. First Aiders must record details of all treatments in respect of injury or illness. Additionally, if treatment has been given as a result of an accident at work, the University's accident reporting procedure must also be followed.  First aid treatment may only be provided by staff who are fully qualified First Aiders and hold a current First Aid Certificate.