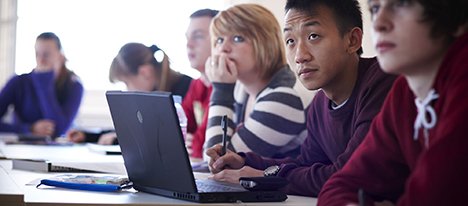 The Money Advice Service is here to provide students and potential students at the University of Worcester with welfare and financial advice and support.

To arrange an appointment with a Money Adviser, please email firstpoint or phone 01905 54 2551.  
Access to Learning Fund - Technology Awards
THIS FUND HAS NOW CLOSED, BUT WILL REOPEN AT THE BEGINNING OF AUGUST 2021.
A NEW SHORT TERM EASY ACCESS FUND WILL OPEN SOON TITLED "COVID HARDSHIP FUND" - DETAILS OF THIS FUND AND ELIGIBILITY WILL BE AVAILABLE SHORTLY.
_______________________________________________________________________________________________
What are Technology Awards?
Funding has been set aside within the Access to Learning Fund for students who need help to buy entry level IT equipment for their studies. Successful applicants will receive a fixed award as a credit to their Reach account. This gives students access to an online shop with a range of educational resources, including laptops, headphones and tablets, at reasonable prices. If you do not have a Reach account and an award is made, an account will be opened for you.

Applications are submitted online to make the process as quick, easy and COVID-safe as possible, and we will email you to let you know the outcome of your application.
---
FAQ'S
Q: Why have you made these Awards available?
A: We recognise that, with some lectures and tutorials now being delivered online as part of our blended approach to teaching, it is more important than ever for students to have access to suitable technology. This might be a laptop or tablet, for example, or headphones so that you can join online discussions. The funding has been made available so that we can help you to buy the appropriate equipment if you would otherwise not be able to afford it.

Q: Who is eligible?
A: Any Home or EU student paying fees directly to the University of Worcester (see full details on the Access to Learning Fund home page). International students should contact a Money Adviser for individual advice. If you are not a new student but you need to replace IT equipment for your studies you can still apply for an Award.

Q: Is it easy to apply?
A: We have made the process as quick and easy as possible, as we are just considering your need for technology, so we only need some basic details, evidence of your student finance and your bank statements for the last three months as evidence of your financial situation. All forms and evidence are submitted online.

Q: Can I apply for a Technology Award AND the Access to Learning Fund?
A: Yes, you can apply for both. However, you are advised to consider making one application to the Access to Learning Fund if you need financial help for anything other than buying equipment for your studies. All of your circumstances will be taken into account, including your need for technology. If you have already had a Technology Award, this would be deducted from any Access to Learning Fund Award, so you won't get more help by applying for both funds.

Q: I've already bought my IT equipment, but this will leave me short of money later.  Can I get help from the fund?
A: Yes. We understand that you might have bought equipment as you needed it for the start of your course. We can't give you cash, but if you tell us about what you bought and how much it cost, we can consider you for an Award, which you will then be able to spend in the online shop. You can buy books, equipment and a range of other useful resources for your studies.

Q: How much will I get?
A: Because we have made this process as quick and simple as possible, we are offering fixed Awards to help towards IT costs. You may choose to spend more than the Award, but as a minimum, you will be able to buy entry level equipment to make sure you can access your studies.

Q: Do I have a choice of what to buy?
A: Yes. Once the credit has been transferred to your Reach Account, it is up to you what you buy, but the IT team has provided a list of equipment with the minimum recommended specification on the shop home page for your information. If you have already bought IT equipment, but were given an Award because this left you short of money, you can put the funds towards anything else on the website that will help you with your studies.
---
If you need financial help for anything other than buying IT equipment for your studies, then you should apply to the Access to Learning Fund. 
Access to Learning (Hardship Fund)
Covid-19 Temporary Relief Fund 
Access to Technology Fund Application Form