University Teaching Award Scheme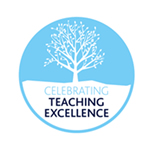 The University of Worcester Teaching Award Scheme (UWTAS) is designed to recognise and reward excellent and outstanding practice in teaching, and in supporting and leading learning. The Scheme explicitly promotes innovative, inspiring and excellent practice which is outstanding in its impact to enhance and inspire student learning.
The UWTAS aligns with the UK Professional Standards Framework (UKPSF), a nationally-recognised framework for benchmarking success within HE teaching and learning support.
https://www.advance-he.ac.uk/guidance/teaching-and-learning/ukpsf
The 2017, 2018, 2019 , 2020, 2021 and 2022 'Vignettes of Practice' booklets appear on the Realising Teaching Excellence at University of Worcester blog https://rteworcester.wp.worc.ac.uk/ for information and inspiration.
In recognising and promoting achievement in teaching, and in supporting and leading learning, UWTAS supports career progression for HEA Senior Fellow applications, UW promotion schemes, professorships, and for nomination to the National Teaching Fellowship Awards.
Awards may be applied for in the following categories:
A - University of Worcester Teaching Award
B - University of Worcester Teaching Team Award
C - University of Worcester Leading Teaching Award
Further details on how to apply are available in the Scheme Information Document
Who can apply?
The Scheme is open to full and part-time staff who are Fellows (or Associates) of the Higher Education Academy, or have completed a PG Certificate in Learning and Teaching in HE, or similar PG HE teaching qualification accredited against the UKPSF, and have at least two years teaching on University of Worcester programmes. Applicants must have completed their probationary period of employment. The Scheme is also open to staff in partner organisations who meet these criteria and undertake a significant amount of teaching on a University approved course. Applications are welcomed from staff with a range of experience including academic staff, professional services and staff working in learning support.
Support available and submission dates:
Launch: 23 January 2023
Information workshops:
'UW Teaching Award Scheme: Why? What? So What? Now What?'
The mandatory workshop offers the opportunity to understand the requirements and processes of an application for a UW Teaching Award and enables you to consider the next steps to an application. You will also have the opportunity to ask questions.
| Date | Time | Location |
| --- | --- | --- |
| Tuesday 21 February 2023 | 10:00-11:30 | EE 1102 |
| Wednesday 26 April 2023 | 10:00-11:30 | BY G199 |
| Tuesday 20 June 2023 | 10:00-11:30 | Blackboard Collaborate |
| Wednesday 21 June 2023 | 10:00-11:30 | BY G199 |
Note: If you are intending to submit an application this year, you will need to email teachingaward@worc.ac.uk expressing your interest and to be added to the UW TAS Blackboard site.
These workshops may be booked via the staff development webpage.
Writing Workshop:
This writing workshop is for staff who have already attended an information workshop. There will be an opportunity to look at the types of evidence that may be used. Applicants are advised to bring along some ideas they have for case studies.
| Date | Time | Location |
| --- | --- | --- |
| Monday 20 March 2023 | 10.00-15.00 | ECB G008 |
| Wednesday 26 July 2023 | 12.30-16.00 | EE 2009 |
Note: The mode of delivery of this workshop will be decided at a later date depending upon Government advice regarding social distancing and other Covid-19 related guidance.
Register intention to submit an application by Friday 30 June 2023
Submit application by Monday 18 September 2023 (3pm deadline)
For further information, please contact teachingaward@worc.ac.uk.