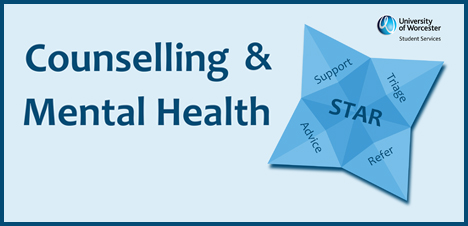 "Student Services aims to deliver accessible, inclusive, high quality support, advice and guidance to students..."
from "Student Services Vision", 2019
STAR (Support, Triage, Advice, Referral)
What's a STAR appointment?
Open to all students, a STAR appointment allows you quick access to a trained professional to get help with any emotional, psychological or mental health issues that you may be experiencing. They are:
30 minute appointments
Available Monday – Friday, between 9am and 4:30pm
Bookable through firstpoint
Via telephone or Microsoft Teams
Open access – which means you can normally see someone within 1-2 days of contacting firstpoint
What happens in a STAR appointment?
You'll meet with an experienced, professional practitioner from the Counselling and Mental Health Service (CMH) who will work with you to identify the support needed to meet your individual needs. You might discuss:
Your current issues and how they are affecting you;
What you would like to be different;
What would be an immediate plan as a first step to help you;
A referral to other services quickly to help resolve issues;
Whether further support from CMH would be helpful to you and what form that might take.
What happens after a STAR appointment?
If you feel that you've been able to resolve the issue within your STAR appointment then nothing further will happen, and you're always welcome to book another appointment in the future if things change.

It may be that further sessions from the CMH team will be beneficial to you. You'll have the opportunity to discuss what this might be with the member of our team who you're meeting. You'll leave the STAR appointment with an action plan that will include ways that you can start to help yourself ahead of working with the team. These may include:
Online or self-help resources;
Strategies to work on;
Specific appointments that we recommend you book (e.g. GP)
Support from other Student Services, like attending Fancy a Cuppa

---
It is important to remember that if your situation changes or becomes more urgent, you can book another STAR appointment.
---

How long do I have to wait for a STAR appointment?
Normally you will be offered an appointment within 1-2 days of contacting firstpoint. If you're not able to make the time or day offered you may need to wait a little longer.

Can I refer someone else to get a STAR appointment?
If you're concerned about another student there are a few options available to you. You can:

If it is a crisis and immediate support is needed you can find details of where to get help on our in a crisis now webpage.

How long will I have to wait to get counselling? Why might I have to wait longer than someone else?
There are different ways the Counselling and Mental Health Service can support students and appointments are offered based on individual needs. If you can't accept the appointment that's offered to you we will do our best to offer you an alternative as soon as possible. We encourage students waiting for appointments who find their situation has changed or become more urgent to book a STAR appointment.

Are there any other services outside of the university I can access whilst waiting?
You can find out more about other non-University support services by visiting our external sources of support webpage.