'Fancy A Cuppa?' Event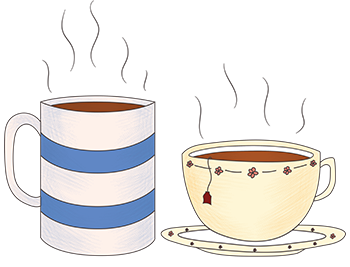 During September to May in semester time, join students and staff for free refreshments and a chat at our twice weekly 'Fancy a Cuppa' events in firstpoint, St John's Campus, and once a week at Charles Hastings, City Campus. The events are hosted by Student Wellbeing Champions and Student Services Staff, and are an opportunity for students to make contact with support staff and come together with other students in an informal, casual setting. A confidential space is available should it be required for a more private conversation.
firstpoint, St Johns Campus 1 - 2pm Tuesdays and Thursdays
Charles Hastings, City Campus 12 - 1pm Tuesdays
At certain points of the academic year, we also host sessions every weekday for a limited period. During the academic year, please check out our webpages or the firstpoint plasma screens regularly for up-to-date schedules. Alternatively you can also check out the Student Wellbeing Champions facebook page.
Pets as Therapy
dogs will be joining us every other week, both at Charles Hastings and in
firstpoint
. Pets as Therapy is a national charity that provides volunteers with their behaviourally assessed dogs to a variety of venues. We are very fortunate to have a dedicated group of volunteers and their lovely friendly, welcoming dogs attend the University on a regularly basis.