'Fancy A Cuppa?' Event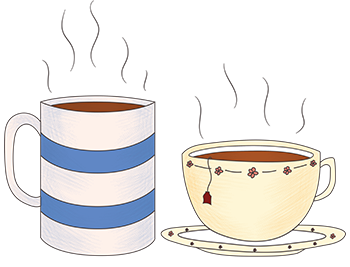 Join students and staff for a free drink, biscuit and chat at our twice weekly 'Fancy a Cuppa' events throughout semester time. During these events, Student Wellbeing Champions and Student Services Staff will be available in firstpoint, providing an opportunity for students to make contact with support staff and come together with students in an informal, casual setting. A confidential space is available should it be required for a more private conversation. We hope you can join us, and look forward to seeing you.
Fancy a Cuppa takes place during term-time each Tuesday and Thursday 1pm - 2pm, in the alcove in firstpoint.
**MARCH STOP PRESS**! Fancy a Cuppa is now being launched on City Campus too! Please see details below (note that City Campus Fancy A Cuppa will be running at the slightly earlier time of 12-1pm).
2019 City Campus:
Wednesday 20 March 12-1pm
Wednesday 27 March 12-1pm
Wednesday 3 April 12-1pm
Wednesday 10 April 12-1pm
Wednesday 1 May 12-1pm
Wednesday 8 May 12-1pm

In addition to this, we run extra sessions throughout the academic year:
2019 St Johns Campus:
Monday 7 to Friday 11 January 1pm - 2pm
Monday 14 to Friday 18 January 1pm – 2pm
Monday 6 to Friday 10 May 1pm – 2pm
Monday 13 to Friday 17 May 1pm – 2pm
Monday 1 to Friday 5 July 1pm – 2pm