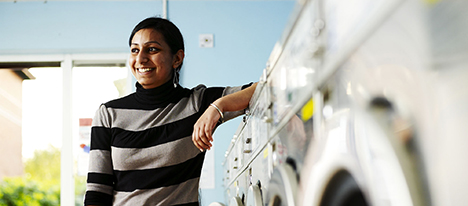 The Money Advice Service is here to provide students and potential students at the University of Worcester with welfare and financial advice and support. 
To arrange an appointment with a Money Adviser, please email firstpoint or phone 01905 54 2551.  
Household Bills & Additional Costs
Household Bills
Household bills include energy bills for gas and electricity, water rates, TV licence and telephone and internet charges.
Check to see which bills are included in your rent - sometimes private landlords will cover the cost of bills.
Make sure you know what is and isn't covered when you choose your accommodation.
Gas and Electricity
As of April 2022, according to Ofgem, the average variable tariff for a dual fuel customer was £1,971 per year, but due to the current energy crisis is due to rise again in October 2022. This obviously varies by the size of the house/flat.
Water
The average annual bill for household water & sewerage bills in England and Wales is £408 in 2022/23. If you have a water meter, you will be charged based on how much water you use. If not, you will pay a fixed amount each year.
TV Licence
You need a TV Licence to watch or record programmes at the same time as they are shown on TV, whether you are watching on TV sets, or other devices including tablets and laptops. You will also need a TV Licence to download or watch BBC programmes on demand, including catch up TV, on BBC iPlayer. This applies to any device and provider you use. If you have a TV in your room you will need a TV licence, regardless of whether you are living in halls or rented accommodation. If you have a joint tenancy several TVs are covered by one licence, but if you have a separate tenancy a licence is needed for each set. The current TV Licence costs £159 per year (as at April 2022).

If you go home for the summer holidays, you may be able to get a refund on your TV licence for the remaining months. See the TV Licencing website for more information.
Home Phone & Broadband
Most broadband connections will require a home phone line, but this is often included in the broadband package. Prices start from around £15/month for Standard broadband. Faster fibre-optic connections cost more, but may be more suitable if there are lots of people sharing one connection. Check out Money Saving Expert's tips on how to get cheap broadband at: www.moneysavingexpert.com/broadband-and-tv/cheap-broadband/
Mobile Phone
Think about your mobile deal. It's easier to keep track of your spending on 'Pay-as-you-go', but things can really add up if you're making a lot of long calls, plus you'll probably have to buy the handset as well. It's normally cheapest to buy a package of minutes, texts and internet data each month. Check the different networks to get the best offer. If you get a contract with a 'free' phone, you'll pay for it with a higher monthly bill. Shop around for the best deal, but read what you're signing carefully, and factor those monthly fees into your budget. Read the small print in mobile phone and internet contracts. Some can be expensive once the free offers have finished and costly to end the contract before the due date.
Council Tax
Full-time students are exempt from Council Tax unless living with non-student adults. Exemption certificates can be printed from the student SOLE page. Where a student is sharing a house with a non-student adult the Council Tax bill for the household will be liable to a 25% reduction.
Shop around for the best deals
Use comparison sites to get the best deal for Gas/Electricity, Broadband, Mobile Phone Contracts, Car Insurance etc.
U Switch
Money Supermarket
Compare The Market
Go Compare
Handset Expert
Additional Costs
According to the NatWest Student Living Index 2022 students spent on average per month:
£76.29 on Supermarket food shopping, toiletries & household items
£56.45 on Household bills (gas, oil, electric, water and internet)
£48.10 on Clothes, shoes & accessories
£47.04 on Car for day-to day travel (inc petrol, MOT, Insurance)
£44.72 on Going out (inc. gigs, theatre, cinema, clubs but excluding alcohol)
£43.34 on Alcohol (all consumed - both at home and while out)
£41.49 on Trips (visiting friends, weekends away, holidays)
£39.47 on Public transport for day-to-day travel
£38.73 on Transport whilst visiting home during term time
£38.56 on Eating out (inc. coffees, restaurant, etc)
£35.92 on Books, course materials, printing etc
£31.11 on Takeaways (inc. food deliveries, collection)
£26.77 on Self-care and wellbeing (gym, meditation, massage, beauty)
£26.25 on Investing in cryptocurrencies
£23.99 on Sports (equipment, subscription, fees)
£22.56 on Home entertainment (cable tv, on-demand streaming services)
£20.76 on University societies and clubs
£20.56 on Mobile phone bills and related costs
£19.67 on Donating money to charities and good causes

Further information can be found on the full NatWest Student Living Report 2022