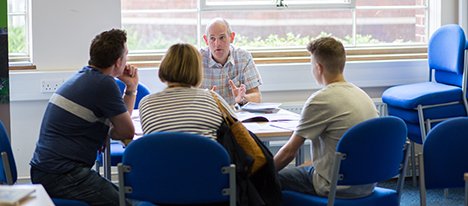 The Money Advice Service is here to provide students and potential students at the University of Worcester with welfare and financial advice and support. 
To arrange an appointment with a Money Adviser, please email firstpoint or phone 01905 54 2551.  
Useful Contacts
Support at the University of Worcester
Listed below are a few of the support services available at the University. Click on the links to find out more about the individual teams, plus go to the Student Services webpage for information on the other services and support available.
firstpoint
The first point of contact for all student enquiries whether they be about accommodation, fees and finance, registration, ID cards, disability support, study abroad, module choice… in fact anything concerning student life at Worcester. firstpoint are situated in the Peirson Building, St Johns Campus.
Open: Monday-Friday 9.00am - 4.00pm
Email: firstpoint@worc.ac.uk

Careers & Employability Service
The Careers Team support students and graduates with the planning and management of their careers and development of employability skills.

Counselling & Mental Health Service
The Counselling and Mental Health (C&MH) team consists of two parts, Student Counselling and Student Mental Health Advice. Both are staffed by professionally trained practitioners who are experienced in helping and supporting people from many backgrounds and cultures, and with a wide range of personal and life issues.

Disability & Dyslexia Service
DDS is usually the first port of call for enquiries relating to disability support at the University of Worcester. They offer support, advice and guidance to students who have a disability, medical condition or Specific Learning Difficulty (SpLD).
Money Advice Service
Contact the University's Money Advisers for advice on Student Loans & Grants, University's Hardship Fund, Welfare Benefits, Debt Management, Budgeting etc.. One to one appointments are available to book via firstpoint.

Student Support and Wellbeing Team
The Student Support Advisers will support students through the transition into student life to make it as effortless as possible. They can help with various issues associated with communal living, settling into a new environment, relationships, conflicts and periods of unhappiness or difficulties.

The Student Ambassador Scheme
Student Ambassadors are role models, trained by the University's Communications team to support a variety of on and off campus activities. These include taster days, open days and campus tours. Many students also work in administrative roles across campus. Sometimes skills are matched with quite specialised jobs (for example, our top journalism students can work alongside the University's Press Officer).

Worcester Students' Union
Advice is available on academic, housing, health, personal problems, etc.
Monday to Friday 9.00am to 5.00pm
Tel: 01905 543210 / Email: studentsunion@worc.ac.uk
Funding Your Studies
Student Finance England
Provides services and information concerning financial support for students in Higher Education (in England), including eligibility and application.

NHS Student Bursaries
Provides information on bursaries given to students on pre-registration Health Professional and Social Work training courses.

Turn2us
Website includes a Grants Search database containing information on over 3,000 charitable funds offering welfare and educational grants, as well as other support and services.

Free and Impartial Money Advice
StepChange
Free help and advice with debt management.
National Debtline
Free advice for people with debt problems in England, Scotland and Wales.
Citizens Advice
Provides information and advice, and directs people to the best source of help for their issue.
Money Helper
Free unbiased advice and information to help people manage their money.

Student Life
The Student Room
An interactive website for Students, offering advice on applying to university, jobs, relationships and health etc.

Save The Student
The student money website for everything student finance. Get the latest student discounts, student jobs, make money ideas and more.

Health and Wellbeing
Mind
Provides advice and support to empower anyone experiencing a mental health problem.

Samaritans
Available 24 hours a day to provide emotional support for people who are struggling to cope, including those who have had thoughts of suicide.

Surviving Economic Abuse
UK Charity dedicated to raising awareness of economic abuse and transforming responses to it.

National Domestic Abuse Helpline
Run by Refuge - Advice and Support for victims of domestic abuse

Mens Advice Line
Run by Respect - Advice and Support for male domestic abuse victims

LGBT+ Domestic Abuse Helpline
Emotional and practical support for LGBT+ people experiencing domestic abuse

GamCare
Information, advice, support and free counselling for the prevention and treatment of problem
gambling.

GambleAware
For help, support and advice about problem gambling.

Shelter
Advice and support on housing issues and homelessness.

Jobs and Benefits
Job Centre Plus
For welfare benefit claims as well as help finding work.

Milkround Online
Offers practical advice and information on financial aspects of student life. The UK's most widely used
student and graduate job website.

HM Revenue & Customs
Information on Tax, including Child Benefit and Tax Credit eligibility & application.

Lone Parents
Gingerbread
Free advice and practical support for single parents.

General Finance and Consumer Rights
Money Saving Expert
Journalistic website created by Martin Lewis which provides free guides, tips, tools and techniques on how to save money. Money Saving Expert have also put a book together entitled "Mental Health and Debt". To view the latest version, click link to left of this page.

The Financial Conduct Authority
Offers advice on all aspects of consumer rights and issues.

TaxAid
Free advice on tax to those on low incomes.

Local Services
Worcester Citizens Advice Bureau
Provides information and advice, and directs people to the best source of help for their issue.
Tel: 0808 278 7891
Email: advice@citaworcester.org.uk
Worcester Job Centre Plus
For welfare benefit claims as well as help finding work.
Tel: 0800 169 0190
Worcester Hub (Worcester City Council)
Local council contact point for information on a variety of issues.
Tel: 01905 722233