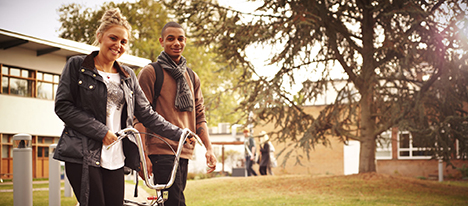 The Money Advice Service is here to provide students and potential students at the University of Worcester with welfare and financial advice and support. 
To arrange an appointment with a Money Adviser, please email firstpoint or phone 01905 54 2551.  
Travel Costs
The University of Worcester, St John's Campus is only 20 minutes' walk from the city centre where one of Worcester's two railway stations and bus station are located. The University's City Campus is centrally located within a few minutes walk of transport links.
Cycling
If you wish to cycle to University or between campuses, then there are plenty of bike stands available on campus. Remember to lock your bike securely when not in use. You can also join the University's Bike Share scheme for as little as £45 an academic year through the online Woo Bikes Scheme. For details and to sign up visit the University's Bike Share webpages.
Campus Bike Shop
The bike shop that regularly visits the University is part of Spokes in Kidderminster and is open near Woodbury building on the St Johns campus between 12:00pm and 2:00pm every Wednesday during term time, with less hours during vacation time.
The shop sells recycled and new bikes (Raleigh and Dawes Agents) and accessories, using good quality recycled parts where possible to lower the cost. They also service and repair any bike and offer advice and information.
Rail Travel
Foregate Street railway station is in the city centre and Shrub Hill station is 10 minutes walk from the centre of town.

Student Rail cards cost £30 a year or £70 for three years, and can save you up to a third off rail travel costs and are available to anyone between 16 and 25, and to full-time students over 26. (However there are some restrictions to when cards can be used so you are advised to check these before purchase). You can apply for a railcard online or collect an application form from your nearest station.

Disabled persons' railcards entitle you to a third off most rail fares across Britain for you and a companion and currently cost £20 a year or £54 for three years. Find out more on the Disabled Persons Railcard website.
Local Bus Travel
Local First buses drop off outside the University and also pick up in the St John's Campus and offer cheaper rates for tickets bought in advance. For full details see the First Bus website.

Disabled people fulfilling the relevant criteria are entitled to free bus passes for bus travel in the city of Worcester. For eligibility visit the Worcestershire County Council website.
National Express
A Young Persons Coach Card is available to anyone aged between 16 - 26, and to full-time students. It costs just £12.50 a year or £30 for three years, and gives you a third off Standard and Fully Flexible fares and 15% off travel to events and festivals. Find full details on the National Express webpages.
Car Parking at the University
The majority of students do not need a car for most of their time at university. However, there are a limited number of car parking places and students can apply for a car parking permit to park on campus although you are not guaranteed a parking space if you purchase a permit.

The 2022/23 permit prices are available online.

Parking permits are available free to disabled students with an appropriate Disabled Badge and for those without the badge but in receipt of Disability Living Allowance or Personal Independence Payment there is a 50% reduction in cost.

As a registered student you can apply and pay for your student parking permit online.
Buying a Used Car
Buying a used car is a great way of cutting the cost of your driving as most new cars lose value in the first year. But there are risks, so it's important to take your time rather than rush into any deal - remember, buying a real old banger for a low price can turn out to be an expensive bargain because of the costly repairs that follow.
If you are thinking of buying a car, check out our Buying a Used Car Guide for advice and guidance.