Car Parking
Our Car Parking team work across every University of Worcester campus to maintain control of all vehicles entering the grounds. Our main aim is to ensure that all vehicles are adhering to the Vehicle Parking Regulations and making sure that emergency services are able to gain access to all buildings with ease.
We strongly recommend that you read through the Vehicle Parking Regulations to understand what is expected of anyone parking on a University of Worcester site.
If you are not adhering to these regulations, you will receive a parking ticket that may contain a fine.
To park on any of our University of Worcester campuses you will either require a parking permit or a pay & display ticket. Please see below for further information on this.
---
Parking Permits
Please continue to display your 21/22 permit until you are able to purchase a new 22/23 one.
Parking permits are available to staff and students. To apply for one you can complete an online application via your staff/student portal.
If you are a Blue Badge holder you are permitted to park free of charge, but you will still need to register and display a University of Worcester parking permit.
If you decide not to purchase a parking permit, we do have several pay and display machines available that are a mixture of cash only and contactless. You can see the pay and display prices below and further down the page you will find a map of our car park locations that highlight where the contactless payment machines are located.
Short Stay - Car Park A
80p - first 30 mins
£1.60 - per hour
£5.50 - for 4 hrs
£7.50 - for 6 hrs
£10.00 - up to 24 hrs
Standard - Riverside & all St John's car parks except Short Stay & Car Park G
50p - first 30 mins
£1.00 - per hour
£3.50 - for 4 hrs
£4.00 – for 6 hrs
£5.00 - for 8 hrs (All day)
£6.00 - up to 24 hrs (Riverside 06:00 - 23:59)
£1.20 - evenings 1800-2300
Weekend & Conference Rate
£2.50 - weekend rate St John's
£7.00 - conference rate (per 24hrs)
£4.00 - event parking - Severn Campus
Pay & Display machines that accept card payments are located in Car Park A, M (including overflow car park), R and Riverside
Staff Permits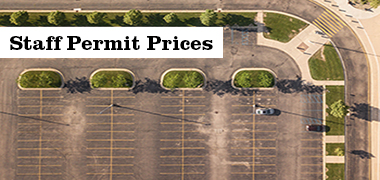 Collection Points (Monday - Friday):
Facilities Reception (Hines Building), 1pm-3pm.
Charles Hastings Reception & Jenny Lind Reception, 3pm-5pm.
Student Permits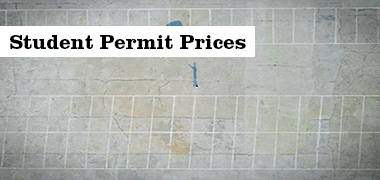 Collections from firstpoint: 9am - 4:30pm, Monday - Friday
Apply for your student permit HERE
Amending your Registration
If you change you vehicle, you will need to register your new number plate. You can do this in the same place you applied for your for permit by changing the registration number and clicking "Update Car Registration".
Cancelling your Permit
If you are in possession of a 2022-23 parking permit, you are able to cancel your permit at any time throughout the academic year. Use the 'Cancel your permit' button. Once you cancel your parking permit, you will not be able to re-apply until August 2023.
Please note, salary deductions will not stop until the Car Parking team have received your cancelled parking permit.
Should you be on a period of maternity/adoption or shared parental leave, any monthly parking payments will continue to be deducted
from
your salary.
Replacement Permit
If you lose your permit you will need to pay a £10 replacement fee. Staff members can do this by going back to the 'parking permits 2022-23' order page and following the link in the top left.

Students will need to go to firstpoint.
---