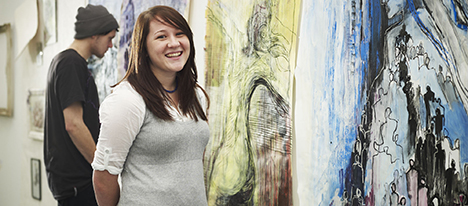 The Money Advice Service is here to provide students and potential students at the University of Worcester with welfare and financial advice and support.

To arrange an appointment with a Money Adviser, please email firstpoint or phone 01905 54 2551.   
Trust Funds
There are many Trust Funds and Charities that have been set up to support students in Higher Education. A significant number of applicants at the University have been successful in their requests for financial support and have been awarded amounts ranging from £200 to £2,000.
Eligibility
Eligibility may depend upon a wide range of criteria, for example:
- where an applicant is from
- where they went to school
- their chosen course or career path
- whether they have a disability or medical condition
- whether they are at a financial disadvantage compared to other students
Searching for Trust Funds
The Directory of Social Change publishes "The Educational Grants Directory" which lists details of charities and trust funds - a copy of this directory can be accessed via the University Money Advisers and the Hive.

Lists of a selection of Trust Funds can be found in our Trust Fund Guide by clicking on the link to the left of this page.

In addition, there are several websites which provide information on charitable trusts and alternative funding, some of which include a Grant search facility to help students identify appropriate funding based on individual circumstances and needs - see below:
Turn2Us is a charitable service which helps people access welfare benefits, educational grants and other help. Individuals can search their database to find funding.
Postgraduate Studentships is designed for postgraduates and intending postgraduates.
British Council gives information and advice to international students, and includes a postgraduate scholarship finder.
Prospects is a graduate careers website which also provides information on sources of funding for postgraduate students.
Postgrad.com offers advice and study bursaries to the value of £500.
The Scholarship Hub has a comprehensive database of funding for UK/EU undergraduates and postgraduates
Students are advised to apply for help from trust funds as soon as they can because some charities use up their funding allocations fairly early in the academic year.
Help Applying
An example of a letter asking for help from an educational trust fund can be found by clicking on the link to the left of this page. Contact firstpoint if you need additional advice and support in applying.